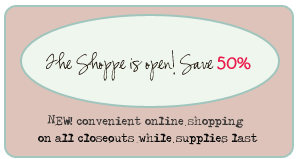 Now an easy way to shop our sale.  Big thanks to the amazing and wonderful
Timi
!  The shoppe will remain open until inventory sells out.  I will be adding the fabric there as well.  
I am still working on the auction pieces, it was a busy week filled with pre-holiday school activities.  I will be finishing them this weekend, and will have them up soon.  
I can't believe Christmas is only 5 days away!  I am really excited for the girls this year.  Chris and I, or should I say Chris, wrapped their gifts last night.  He does the wrapping, I label.  He is actually way better at it than me.  We got some snow yesterday, and it will continue all weekend.  What a fun way to start the Christmas break.  Anywho, this is going to be a short post today, lots to do.  Have a wonderful weekend!