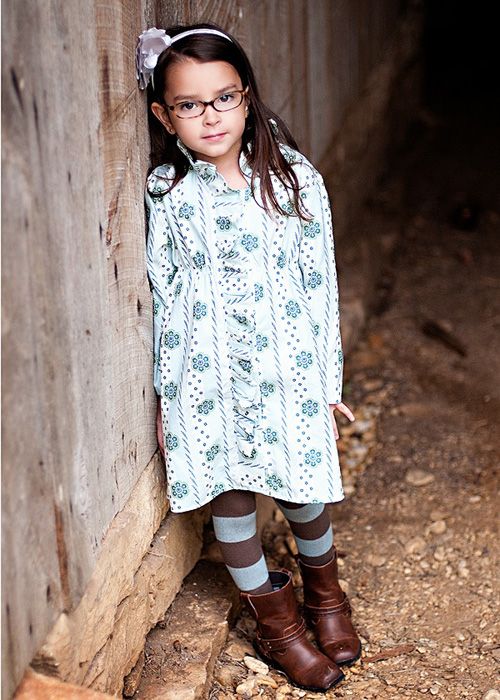 Finally... but it was so worth the wait! Many of you may have noticed it was missing from the site. Great designs sometimes need to be reworked to make sure they are perfect, and I couldn't be happier with this piece. I spent many hours developing this pattern, and reworking it to get it just right. I absolutely
love
the results. I wanted to make a shirt dress that would be different from those hanging on racks everywhere right now. I had a vision of something retro and a bit glamourous, yet wearable any day, and found the perfect fabric to set off the design. This is truly my signature piece. From the beautiful ruffle that curves around the neckline down the front, to the shirring to add even more feminine detail. All we needed was the perfect photo, and we certainly got that! Huge thanks to
Mariel
and her beautiful daughter for stepping in to save the day! I can't thank them enough! Don't you just love her! I hate that all our amazing photographers live so far. If you are in the Austin, Texas area, you must set up a shoot with Mariel! Her vision is art and I love working with her!
You'll notice the skirt above is one of our new designs, the Downtown Skirt. I love the clean lines of it, and the slightly modern edge. This skirt is made for boots! And the shirred peasant top... just layer it with our Walnut Cafe tee for cold days. The top has lots of shirring, and an elbow length sleeve which gives it a totally different look. And of course, Mariel and her daughter rocked this photo too!
It's hard to believe Thanksgiving is this Thursday! I have so much to be thankful for. For one, I have the most wonderful supportive family in the world, and the most beautiful friends and customers who give me endless inspiration. I am truly a lucky girl.
Saw New Moon Thursday night, and I loved it! I was a bit disappointed with the end, but over all, I can't wait to see it again.
Have a beautiful weekend!