I have a funny to share with you.  Music is always on in this house, all kinds.  The girls have been listening to Britney Spears, yeah, I know.  Hey, at least she turned herself around.  Anyway, they were listening to Womanizer.  Today, Chris takes my truck to the dealership.  I swear, we just got it back after a week of it being there to get fixed, and one of the lights came on.  And not to mention the transmission fluid that is spilled all over the under carriage from them fixing it, and my whole truck stinks!  He is waiting with Ava, and talking to a guy there.  Ava starts singing womanizer, and Chris asks, what did you say.  She says you're a womanizer.  The guy just cracks up.  I am sure he must be thinking his wife is saying this to him.  I laughed so hard when Chris told me.  Out of the mouth of babes...
Speaking of music, my newest addition to my ipod, is Fall Out Boy, I Don't Care.  Love it.  Not to mention, how hot is Pete Wentz?!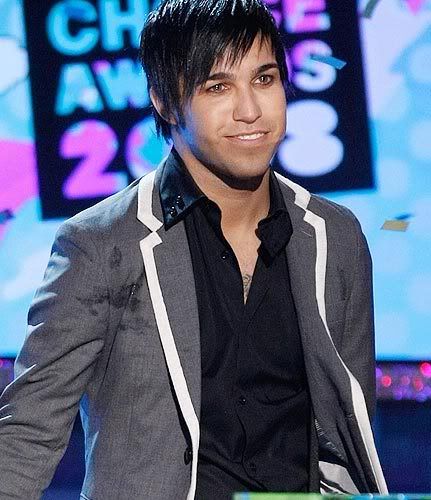 He has that whole baby face meets punk rocker, tattoo thing going on.  Gotta love a bad boy.
Speaking of bad boys, Chris, no just kidding, he used to be a bad boy, but not anymore.  Now he is Mr. GQ Wall Street Boy.  But back to him, he got his haircut today, and that boy has had the same haircut for about 6 years.  I need to convince him to grow it a bit, and do something different.  Maybe more Pete Wentz, or McDreamy.  Did you see Gray's this week?!  I love Eric Stoltz!  It was a good one, but I don't get where this Izzy Denny story line is going, but I love seeing Denny anyway.
Ok, I am rambling today.  I am off to a birthday party for my niece.  Have a great weekend ladies!