Yes, it has been awhile, seems to be these days.  I have been so busy with GenMarie, family and a new pup, that I barely have time to lay next to my husband at night.  Believe it or not, we are already planning the Spring line, and there are lots of great new things in store.
Last weekend, one of my best friends since 6th grade got married.  I have been trying to get the pictures into my computer, but guess what?  Something is wrong with my camera.  Getting my camera fixed is going to have to wait, since funds are limited.  I am bummed to say the least.  But she looked amazing.  She wore the most beautiful strapless ivory dress, and they were married outdoors in Vermont, with the beautiful mountains behind them.  It really was a beautiful ceremony.  It is peak foliage in Vermont now, so it was quite the backdrop.  As soon as I get my camera in check, I will share some pics. 
And for my sweet little lady, meet Miss Alex, the lovely daughter of my amazing FC, Keri.  Alex is the brains behind many of the names of our pieces.  She loves being a part of GenMarie, and I just love her to bits.  She asked her mom months ago when she can be a GenMarie Consultant.  I told her when I won't be thrown in jail for child labor. ;)  And I must say she is a force to be reckoned with on the soccer field too.  Beauty, brains and athleticism.  I don't envy her parents when the boys start knocking on the door in a few years.
Alex is wearing our
Sapphire Sky
skirt.  She just looks so darn pretty.  I don't think I will ever get tired of knee socks and mary janes.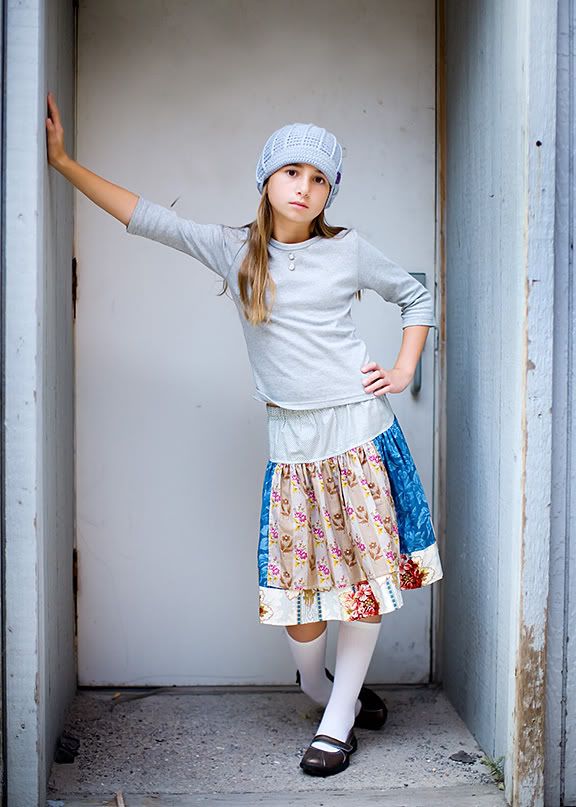 The gorgeous photos are courtesy of my fabulous friend
Leah
.  One day Miss Leah, I am coming out there to have you photograph my girls.  Oh....just dreamy.
Have a lovely Sunday...we are off to pumpkin pick and decorate for Fall.